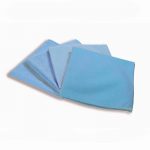 Arix Professional Micromax 40 multipurpose microfibre blu cloth
Microfibre multipurpose cloth, high quality tissue. The particular texture grants a great cleaning power along with a good rinsing and squeezing capacity.
Description
Use damp and well wrung; rinse well after the first and last use. Washable up to 90° without softner.