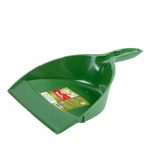 Tonkita We Like Green Eco dustpan
One piece dustpan made with certified, post-industrial and post-consume, recycled and recyclable materials, free of dyes: compact and durable, no additional components. Dustpan snap together with the broom handle for easy space-saving.
Description
Wash periodically dustapan. To be stored in dry and clean place.