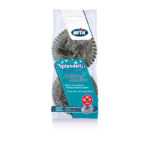 Arix Splendelli Metal stainless steel scourer 2pcs
Stainless steel extra strong wire sponge: doesn't rust! Thanks to its flat shape it's very resistant, effective and long lasting. It easily removes the most difficult stains from pots, pans, stoves and inox surfaces. With Its wide meshed net, doesn't retain grease residue, remaining odourless.
Description
To be used with water and detergent. Rinse warm thoroughly before and after each use. To be stored in a dry and clean place. ATTENTION: the product doesn't suit for teflon pots and pans.