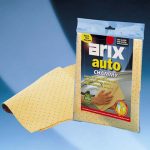 Arix Chammy car cotton-chamois cloth
Cotton-Chamois cloth: it deeply cleans and wipes the car body and interiors, glasses and lights without leaving any streaks or lints. Super absorbency and long durability.
Description
Well rinse before the first use and after each use. Both hand and machine washable at low temperature; don't use bleach or aggressive detergents. Keep it away from heat sources.