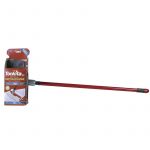 Tonkita Dust locker starter kit + 10 cloths refill
Dust locker starter kit, ideal for all kind of floors, especially parquet, marble, ceramic and for the skirting. The disposable dust-attracting cloths with special high thickness 3D pattern, allow a improved collection and retaining bigger quantity of dust, crumbs, hair in one pass. The compact shape with cloth-lock slits and high thickness sponge base gets a better surface grip and a uniform cleaning. Thanks to the 360°swivel joint and the metal extensible handle up to 130 cm, it easily reaches corners, space under furniture and ceiling.
Description
Fix the edges of the cloth and pass the floors for dusting. Keep out the cloths of reach of toddlers and pets in order to avoid accidental ingestion. Sponge base removable if to be necessarily washed.