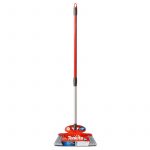 Tonkita Dual indoor broom with special double-action bristles and metal handle
Indoor broom with special double-action bristles, made of totally recyclable material: grey half-rigid bristles are ideal for hair, crumbs and small particles picking up; black soft bristles for fine dust. Thanks to its compat and slim shape, is usefull in tight spaces. Extensible metal handle up to 130 cm.
Description
After usage keep it hanging or with head upright for better maintenanceWash it regularly. Don't store to high temperatures. It's recommended the annual replacement of the broom to prevent the excessive microbial accumulation and maintain good hygienic conditions in the home.