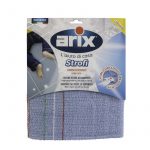 Arix Strofì soft cotton terry floor cloth
Cotton terry floor cloth with exclusive processing with single knitted on a strong polyester plot, that grants an extraordinary wearing and washing resistance. Thanks to the large amount of cotton fibers, it grants a bigger absorption capacity. Recommended for thorough cleaning of ceramics, stoneware, brick floor and marble.
Description
Wash the terry cotton floor cloth before the first use. To be rinsed, well squeezed and hanged up after each use. Do not use with bleach or aggressive detergents. Can be washed by hand with neutral detergent or by washing machine up 40ᄚ without softener.