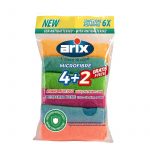 Arix 4+2 Microfibre utility cloth with antibacterial treatment – value pack
Multi Purpose microfibre cloth with antibacterial treatment against bacteria growing-up inside the cloth, for long lasting effectiveness. Use dry for dusting, wet and well squeezed for a thorough cleaning of all kind of surfaces. Four patterned colours for different use in the home.
Description
Microfibre cloth to be rinsed, well squeezed and hanged up after each use. Do not use the microfibre cloth with bleach or aggressive detergents. Can be washed by hand and soap or by washing machine up 40° without softener.